It's been quite a week in our little town! Augusta was hit by a huge ice storm. It took down trees and took out power—for several days for many of its residents.  For me, the most unsettling hours were during the evening when the ice had settled in on everything and the limbs of trees were beginning to snap, crackle, pop and then the thundering booms as trees and limbs came down. It was like the sound of constant gunfire and explosions.
Our home backs up to the woods, so I was just waiting for that 60-foot hardwood to come crashing through our roof!  Thankfully, it did not and we sustained very minor damages. But then, just as things were beginning to thaw and melt, we experienced an earthquake!  Things were quite shaken up this past week, to say the least!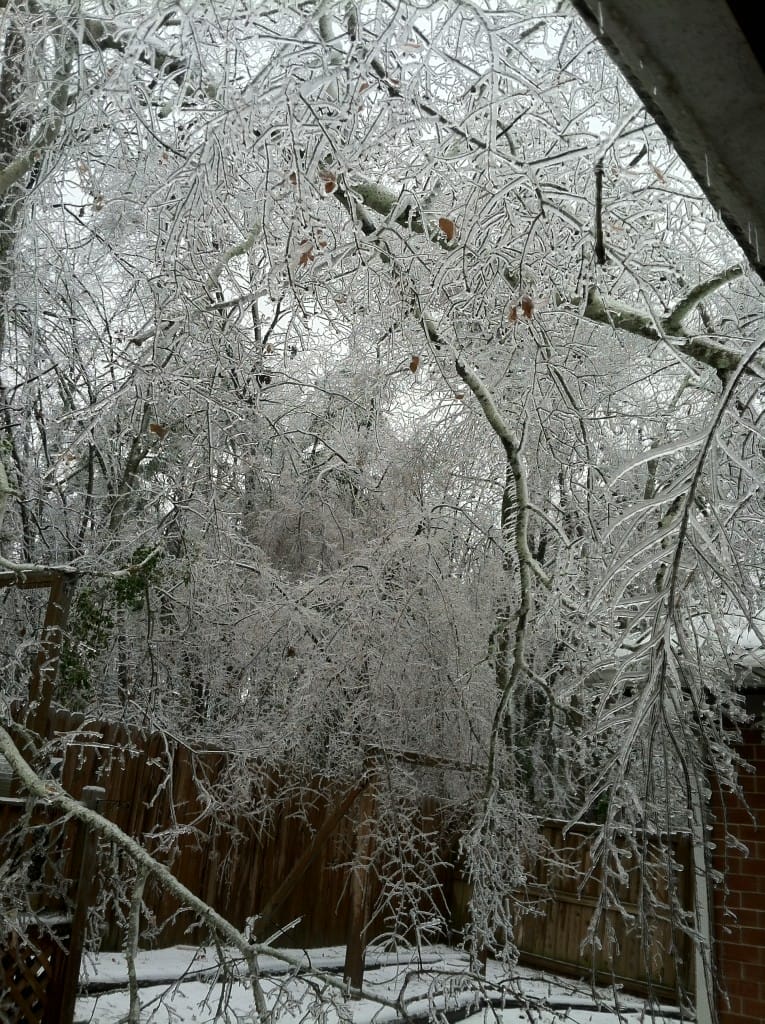 In the midst of all this, the Lord kept bringing to mind Psalm 46:1-2.
God is our refuge and strength, a very present help in trouble. Therefore we will not fear though the earth gives way, though the mountains be moved into the heart of the sea, though its waters roar and foam, though the mountains tremble at its swelling. Selah

Psalm 46:1-2
(He's been giving me quite a few opportunities lately to walk this verse out.  You can read more about it here.)
This whole experience started me thinking about how things like ice, falling limbs, and quaking windows and walls can really shake us up, and not just physically. There were Tweets and Facebook posts about the end times and such. Emotions were running high. It's so easy to get rattled when things like this happen to us. Fear takes hold and has us shaking with worry, anxiety and contemplating the "what if". But, we don't have to live in fear.
We don't have to be consumed with worry.  We can live with an unshakeable faith!  When the storms of life hit (physical or metaphorical), we all turn to something or someone for refuge —it's the object of our faith and trust.  And we all have a choice as to what we make our refuge.  We can allow ourselves to be paralyzed by fear of the unknown and uncertain or we can chose to live unshakeable.  So what makes it possible for us to live unshakeable?  Take a look at Psalm 18:1-3 and note how the psalmist describes God:
I love you, O Lord, my strength. The Lord is my rock and my fortress and my deliverer, my God, my rock, in whom I take refuge, my shield, and the horn of my salvation, my stronghold. I call upon the Lord, who is worthy to be praised, and I am saved from my enemies.

—Psalm 18:1-3
Psalm 18 gives us some very practical things we can do when our world is shaking and we are seeking to live unshakeable:
We can remember Who God is — He is my rock!  My fortress!  My strength! My deliverer!  My shield and stronghold! My Savior!
We can express and profess our love for Him — I love you, Lord!
We can call upon Him in prayer —Pour out your heart to Him.  Tell him your fears and worries.
We can praise Him —He is worthy to be praised and praise ushers in His presence and peace and will calm us in the storm.
We can rest secure in His presence — knowing we are saved from our enemies (even those enemies like fear, worry and anxiety).
Jesus tells a story in Matthew 7:24-26 that reminds me of our week here in Augusta and what it means to live unshakeable, even when our world is shaky and quaky!  It's the story of the wise man and the foolish man and where they both CHOSE to build their houses.  You probably know the story.
The wise man built his house upon the ROCK, and the storms raged  and the winds blew, but his house stood FIRM!
The foolish man built his house upon the SAND, and the storms raged and the winds blew, and his house fell —it fell FLAT!
How unshakable is your faith?  When the storms hit, are you knocked FLAT?  Or do you stand FIRM?  Firmly resting in the power and provision of the ONE who created all things and controls all things!  This doesn't mean that fear will never grip you or life won't shake you up a bit.  But when this happens we have the choice to give into the fear or to walk by faith —a faith unshakable in the Lord God, our rock, our fortress, our deliverer who is mighty and strong and endures forever!
For God alone my soul waits in silence; from him comes my salvation. He alone is my rock and my salvation, my fortress; I shall not be greatly shaken.

Psalm 62:-1-2

Therefore let us be grateful for receiving a kingdom that cannot be shaken, and thus let us offer to God acceptable worship, with reverence and awe…

Hebrews 12:28
For further study and encouragement this week, consider downloading:  The Lord is our ROCK!  
©2014 Susan Cady