Did you ever play princess as a young girl? I think we all have princess desires, of some sort, buried deep inside. The desire to be loved, admired and cherished resides in the hearts of all women. Some of us may have had fairy-tale, princess childhoods. Some may have not. We've all dreamed some version of our white, knight riding in on his horse and sweeping us off our feet to the wedding of our dreams. For some, this fairy-tale eventually became reality, for most probably a less "Disney" version of this fairy-tale was reality and some are still waiting for their white knight.
When the reality of life collides with these fairy-tale expectations, it can send us reeling into a downward spiral. But throughout Scripture, God reminds us that He loves us with an unfailing love. We are His treasured possession and in His great mercy, He has provided a way for us to turn to Him and find life as we never dreamed or imagined possible (Ephesians 3:20-21). The trouble is we often confuse our expectations of a fairy-tale life with the beautiful, abundant and satisfying life God has planned for us.
Perhaps a past experience or your current situation has left you wondering and feeling anything but cherished and loved. When you look in the mirror, what do you see? Do you see imperfections, past mistakes or hurts and inadequacies?  Or do you see yourself as one completely and lavishly loved by God?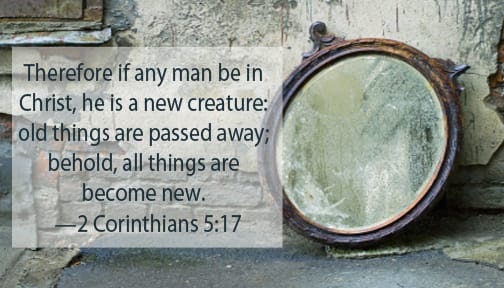 Therefore if any man be in Christ, he is a new creature:old things are passed away; behold, all things are become new. —2 Corinthians 5:17
2 Corinthians 5:17 tells us we are new creations in Christ Jesus. If the truth of the gospel has transformed your heart and life, your true identity is no longer based on your physical appearance, your list of accolades and accomplishments, or your past mistakes, failures or hurts. Your identity is now found in Christ Jesus. You are a daughter of the King! You are a princess and Jesus, your Prince, is a prince to which none can compare!
Do you know who you are in Christ Jesus?
The lavish love of the Father has given you a new identity through Christ's work on the cross. Jesus took our past, our failures, our sins and paid the price so that we might once again have access into God's presence. He has restored the ONE relationship we need above all else in life—our relationship with God. Although we may still experience the consequences of sin, and the pain of our past does not disappear, we have acquired so much more!  We have been restored into the one relationship that we need more than anything else in life—our relationship with God and we have access into His presence continually because of Jesus. In His presence we find strength to walk through—and work through—the consequences of our sin. In His presence we find a place of refuge and healing for past hurts and mistakes. And the nagging emptiness and void in our souls we've been trying to fill with all the wrong things, is completely satisfied and satiated in Him!
In His presence…
We find peace.
We find joy.
We find acceptance.
We find contentment.
We find comfort.
We find unfailing love.
We are no longer defined by our mistakes, our sins or our inadequacies. Our identity now rests in Christ Jesus.
So who are we in Christ Jesus?  Here's just a short list:
I am a child of God.   John 1:12

I am a joint heir with Christ, sharing His inheritance with Him.  Romans 8:17

I am united to the Lord and am one spirit with Him.  1 Corinthians 6:17

I am a new creation.  2 Corinthians 5:17

I am a reconciled to God and have been given the ministry of reconciliation.  2 Corinthians 5:18, 19

I am an heir of God since I am a child of God.  Galatians 4:6-7

I am a saint.  Ephesians 1:1; 1 Corinthians 1:2; Philippians 1:1; Colossians 1:2

I am accepted and loved by the Father in Christ. Ephesians 1:6

I have been redeemed and my sins forgiven. Ephesians 2:5

I am free forever from condemnation. Romans 8:1

I am God's workmanship – His handiwork – born anew in Christ to do His work.  Ephesians 2:10

I may approach God with boldness, freedom and confidence. Ephesians 3:12

I am a fellow citizen with the rest of God's family.  Ephesians 2:19

I am righteous and holy.  Ephesians 4:24

I am a citizen of heaven, seated in heaven right now.  Philippians 3:20; Ephesians 2:6

I am complete in Christ Jesus. Colossians 2:10

I am an expression of the life of Christ because He is my life.  Colossians 3:4

I am chosen of God, holy and dearly loved.  Colossians 3:12; 1 Thessalonians 1:4

I am an alien and stranger to this world in which I temporarily live.  1 Peter 2:11

I am an enemy of the devil.  1 Peter 5:8

I am a child of God and I will resemble Christ when He returns.  1 John 3:1,2

I am born of God, and the evil one- the devil- cannot touch me!  1 John 5:18

I have the right to come bold before the throne of God to find mercy and grace in time of need. Hebrews 4:16
So the next time you are standing in front of the mirror, magnifying all the flaws and rehearsing your past, remember who you are as a child of God IN Christ Jesus!
If you were encouraged by this post, would you consider leaving a comment or sharing it with someone in need.
©2013 Susan Cady, susancady.com