Not enough hours in your day. Circumstances beyond your control. Never enough no matter how hard you try. Life has not turned out as planned or expected. Rushing. Frazzled. Weary. Can you relate? Today, you need to know the humble King who rules the world.
His Name IS Advent Devotion: DAY 4
Jesus, our King! Behold Him!  We continue our study in Zechariah 9:9 focusing on the latter portion of the verse.
Rejoice greatly, O daughter of Zion!
Shout aloud, O daughter of Jerusalem.
Behold, your king is coming to you;
righteous and having salvation is he,
humble and mounted on a donkey,
on a colt, the foal of a donkey.
—Zechariah 9:9
He is name is Lord of lords and Kings of kings (Revelation 17:14) and He IS…
A HUMBLE KING
The people of Israel, to whom this prophecy would have been originally addressed, were eagerly anticipating the arrival of a king. But their expectations of this king and his kingdom were not quite what God had planned. They were expecting a King! Royalty! They were looking for a political Messiah who would restore the nation of Israel and its glory. Someone who would free them from the bondage of being ruled by other nations. A humble king arriving on a donkey was not what they had in mind. Their king would surely be coming in glory and splendor, riding upon a war-horse, clad in robes and riches. Jesus did not come as they expected and therefore many missed His arrival.
How often do your expectations collide with God's plans or with your own reality? Probably more often than we'd like. When our expectations for a circumstance or relationship are not met we end up discouraged, disappointed, frustrated and feeling hopeless. We need to remember that God is working and His plans and purposes will always prevail. His plans will always be for His glory and our good, which is to make us more like Jesus!
Where is your gaze focused this season? Are you taking time to be still and quiet? Are you willing to lay your expectations at the feet of Jesus and worship Him?
Hear my cry for help,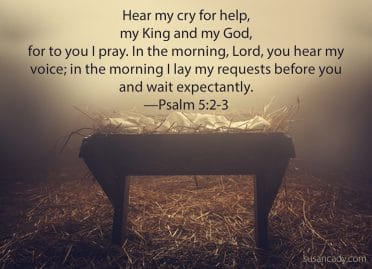 my King and my God,
for to you I pray.
In the morning, Lord, you hear my voice;
in the morning I lay my requests before you and wait expectantly.
—Psalm 5:2-3
He IS our hope and expectation!
A RIGHTEOUS AND SAVING KING
Jesus left all that was glory and perfection and came to earth as a humble servant focused on accomplishing the task God had purposed long ago. The salvation He came to bring was not restoration in a worldly sense, but restoring to us fellowship with God. He puts us in right standing with a holy God.
In our cross-references from yesterday, Mark 11 and Luke 19, we read that Jesus sent his disciples to go into the village ahead where they would find a colt tied, "on which no on has ever sat":
Jesus sent two of his disciples and said to them, " Go into the village in front of you, and immediately as you enter it you will find a colt tied, on which no one has ever sat. Untie it and bring it. If anyone says to you, ' Why are you doing this? ' say, ' The Lord has need of it and will send it back here immediately. —Mark 11:1-3
When he drew near to Bethphage and Bethany, at the mount that is called Olivet, he sent two of the disciples, saying, "Go into the village in front of you, where on entering you will find a colt tied, on which no one has ever yet sat. Untie it and bring it here. If anyone asks you, 'Why are you untying it? ' you shall say this:'The Lord has need of it. —Luke 19:29-31
These passages are just prior to Jesus heading to the cross. He accomplished on the cross at Calvary no one else could do, had ever done or will do.
For our sake he made him to be sin who knew no sin, so that in him we might become the righteousness of God. —2 Corinthians 5:21
He accomplished what was impossible for us to do in our efforts! He rescued us from the bondage of sin and death and restored us into a right relationship with the Father!
Are you trying to earn your righteousness in your own efforts by trying harder and attempting to do more? Rest in your salvation in Jesus. He has accomplished what we cannot. You are secure and complete in Him! (Colossians 2:10)
He IS our righteousness! 
A PEACEFUL KING
Yesterday I mentioned that one of the questions that struck me as I read this verse again was: What is the deal with the donkey? In the ancient Middle Eastern world, leaders rode horses if they rode to war, but donkeys if they came in peace. Rather than riding to conquer, this king would enter in peace. Take a look at how verse 10 goes on to highlight this fact:
I will take away the chariots from Ephraim and the war-horses from Jerusalem, and the battle bow will be broken. He will proclaim peace to the nations. His rule will extend from sea to sea and from the River to the ends of the earth. —Zechariah 9:10
Jesus fulfills this prophecy in Zechariah and brings peace into the world. Peace with the Father and peace in our souls and spirits.
This took place to fulfill what was spoken by the prophet, saying,
 Say to the daughter of Zion,
'Behold, your king is coming to you,
 humble, and mounted on a donkey,
on a colt, the foal of a beast of burden'. —Matthew 21:4-5
May our Christmas season be characterized peace and praise for our King of Peace who has come in the name of the Lord to reconcile us to the Father and bring us salvation, joy and peace.
And they brought it to Jesus, and throwing their cloaks on the colt, they set Jesus on it. And as he rode along, they spread their cloaks on the road. As he was drawing near — already on the way down the Mount of Olives — the whole multitude of his disciples began to rejoice and praise God with a loud voice for all the mighty works that they had seen, saying, "Blessed is the King who comes in the name of the Lord! Peace in heaven and glory in the highest! And some of the Pharisees in the crowd said to him, "Teacher, rebuke your disciples." He answered, "I tell you, if these were silent, the very stones would cry out."—Luke 19:35-40
He IS our peace!
Share with us what you've learned by leaving a comment at the end of this post. And remember, all the rushing and impatience of NOW! causes us to miss the joy of the moment. Let's commit to being intentional this Christmas season, to not allow the hurried and harried NOW! attitude rob us of the joy and peace Jesus has for us in the moment. Slow down and soak in the presence of Jesus —Immanuel, God with us. His presence renews, refreshes and enables us to rejoice in the ALL the moments of this often harried and hurried season.
This post was originally published on Get Real on December 5, 2014.